The ESHHS has two membership fees. A regular fee and a reduced student fee.
Regular fee €30
Student fee €5
You can pay your dues through Bank Transfer, either directly or using a service such as PayPal Xoom.
Bank transfer
Below you'll find the IBAN (International Bank Account Number) and BIC (Bank Identifier Code). For most transfers between European countries the IBAN is all that is needed. Sometimes you'll be asked for the BIC as well.
If given the choice, please make sure your payment will be booked as 'shared costs'. Your bank may charge you an additional fee for transferring money from your account to the ESHHS account.
European Society for the History of the Human Sciences
Valkenburgerweg 177
6419 AT Heerlen, the Netherlands

IBAN: NL30RABO0340111585
BIC: RABONL2U
Bank transfer from outside Europe
There now exist a number of tools and apps for transferring money directly, with low fees, to a European bank account from an account in another currency. Here we suggest two options, but there may be others.
If you are able, please make sure the receiving amount will be the total dues in Euros, i.e. please cover the transfer fees yourself. Fees should be approximately $1 on top of a transfer of €30.
1. Bank transfer via Paypal's tool "Xoom".
As per the image below, click "Send & Request" then "Send to a bank account"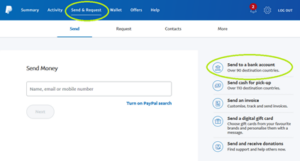 2. Bank transfer via Wise (previously TransferWise).
Those who consider paying for more than a year at once are encouraged to do so!