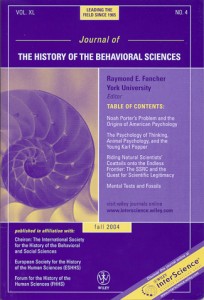 The ESHHS is formally affiliated with the Journal of the History of the Behavioral Sciences (JHBS). Together with the JHBS, the ESHHS encourages early career researchers to submit their papers for the Early Career Award.
The winning paper can be submitted to JHBS. If  accepted after additional review, it will be published with a notice indicating that it is the winner of the ESHHS Early Career Award. The Publisher will then provide an honorarium of US $500 to the award recipient.
Eligibility
All students are eligible to be considered for the Award, as are all researchers having completed their PhD no more than 5 years previous to the date of submission.
Early career researchers who do not hold a permanent/tenured university position (or equivalent) are eligible.
Those wishing to be considered must be members of ESHHS at the time of submission. (An appropriately completed membership form & proof of dues payment may accompany the submission.)
Winners of the Cheiron Young Scholar Award for a given paper are not eligible for the Early Career Award for that same paper.
Submissions are accepted for papers presented during both the current year's ESHHS conference and the previous year's conference.
Procedure
Candidates should submit a paper proposal in the usual way for the annual ESHHS conference, and present their paper during the conference.
Candidates must be sole presenter of the paper at the conference.
Candidates must be the sole or first author on the paper and must be responsible for the bulk of the work of the paper.
Submissions are due by 15 November of the given year.
Candidates should submit a 'written-up' version of the paper presented. This may include small changes or additions, but should not exceed 5000 words (including footnotes). Candidates should use the house style of JHBS.
Papers should be emailed to each member of the ESHHS Executive Board (President, Secretary, Treasurer, and the Communications Officer). Candidates should indicate that they wish to be considered for the Early Career Award and provide a short CV to establish eligibility. Candidates who are students should list the name/s of their supervisor/s and/or PhD committee with their application.
The Board will acknowledge receipt of applications and will confirm their eligibility.
After the submission due date, the Board will convene a committee to review all papers, and base its final verdict on the committee's reviews. The committee will be composed so as to minimize or eliminate conflicts of interest (e.g. a scholar cannot sit on the committee if their graduate student is a candidate).
In any given year, in the absence of high quality submissions no award will be made.
The Executive Board will announce the winner of the Award (provided there are submissions of appropriate standards) during the business meeting of the following conference.
The full-length paper can be sent to JHBS any time after the announcement.
If the paper is accepted for publication in JHBS, the honorarium will be awarded.

Previous winners of the ESHHS early career award

| | | |
| --- | --- | --- |
| Year | Winner | Title of paper |
| 2022 | Jan Kornaj | It's a fight – whole personality of the patient to win": concepts of psychosis in The Jewish Hospital in Warsaw, 1898-1943 |
| 2021 | Anne Por | Hodegetik: Students understanding souls |
| 2020 | David J. Robertson | The World Health Organization and the Emergence of an Information Infrastructure in Postwar Psychiatric Epidemiology |
| 2016 | Kimberly Probolus | Intentional Tests or Intelligence Tests? Legal Challenges to Racial Discrimination in Massachusetts Civil Service Officer Selection, 1967–­­1974 |
| 2014 | Andrea Graus | "Discovering Palladino's mediumship. Otero Acevedo, Lombroso and the quest for authority" View paper |
| 2013 | Kim Hajek | "Imperceptible signs: Remnants of magnétisme in scientific discourses on hypnotism in late nineteenth-century France" View paper |
| 2012 | Sigrid Leyssen | "Impressed by the real" |
| 2011 | Jannes Eshuis | "What do we learn from doing history? On the reception of ethology in evolutionary psychology" |
| 2010 | Alexandra Hui | "The Bias of Music-Infected Consciousness: the Aesthetics of Listening in the Laboratory and on the City Streets of Fin-de-Siecle Berlin and Vienna" View paper |
| 2009 | Marlise Rijks | "Max Weber and Comparative Historical Sociology" View paper |
| 2008 | Susan Lanzoni | "Practicing Psychology in the Art Gallery: Vernon Lee's Vital Aesthetics" View paper |
| 2006 | Ciaran Mc Mahon | "The origins of the psychological 'interior'. Evidence from Imperial Roman literary practices" View paper |
| 2005 | Noemi Pizarroso | "From Epistemology to Psychology. The Intellectual Relationship between Ignace Meyerson (1888-1983) and Emile Meyerson (1859-1933)" |
| 2004 | Thomas Sturm | "What's Wrong with Mathematical Psychology in the 18th Century? A Fresh Look at Kant's Old Argument" View paper |
| 2003 | Uljana Feest | "'Operationism in Psychology – What the Debate is About, What the Debate Should Be About'" View paper |
| 2002 | Daniela S. Barberis | "Moral Education for the Elite of Democracy: The classe de philosophie Between Sociology and Philosophy" View paper |
| 2001 | Hans Pols | "Divergences in American psychiatry during the Depression: Somatic psychiatry, community mental hygiene, and social reconstruction" View paper |